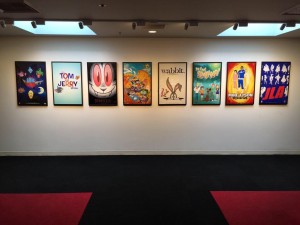 There are some new rumors floating around Reddit about a new Justice League animated series from Warner Bros. The thread on Reddit shows a picture, allegedly taken inside the Warner Bros Burbank studios, that shows a series of framed posters. All of the posters are of current or announced shows except for the last one, which simply has "JLA" and a series of superhero silhouettes.
Not all of the other shows in the poster are from Cartoon Network, so it is possible that any new Justice League series could be on Boomerang or another Warner-owned station. Since Cartoon Network is still keeping quiet about this revelation, everything about the new series is all speculation (including the name and even existence of it). I hope we get to hear more information about a new Justice League series sometime soon!
In a related topic, Bruce Timm has been working with DC Animation to create a new Justice League film, titled Justice League: Gods and Monsters. Unfortunately, the film is set in an alternate reality where Superman is the son of Zod instead of Jor-El, Wonder Woman is married to one of Darkseid's sons, and Batman is not Bruce Wayne, but Kirk Langstrom (aka "Man-Bat" in the comics). There is one more bizarre surprise about Batman in this reality — he is a vampire.
DC is releasing a three-episode prequel to the movie, named Justice League: Gods and Monsters Chronicles. You can view the first episode online and see for yourself how dark this alternate DC reality is and the tone of the upcoming movie.