I recently had to set up a new Windows 11 device, and I was increasingly frustrated by how pervasively Microsoft has added dark patterns to their operating system. The end goals for Microsoft are to gather information on the end user and put relevant advertising on their screen. For those purposes, they keep adding new, buried options to try to sneak in new ways to accomplish both.
Give Us Your Email Address
Right out of the box, one of the first steps is to create a login for the device. In Windows 10, you could follow some obfuscated steps to create a local-only user, where you do not need to provide an email address or sign into a Microsoft account.
Windows 11 has completely removed that option during setup. If you want a local-only user, you first need to provide a Microsoft account during setup and then add the local user after the setup has completed, through the Settings application. Microsoft really wants you to use an online account, so they can easily collect data on your device usage and tie it to your centralized online account.
Even when you try to create that local account through Settings / Accounts, Microsoft buries the local-only option behind a confusing user interface. By default, they assume you want to add another Microsoft account to the device. You have to follow a link to a different dialog ("I don't have this person's sign-in information"), and then yet another link on that new dialog ("Add a user without a Microsoft account"), before you can finally enter in the local user's information.
Give Us Your Data
During setup, you can configure some of the privacy settings to limit what data your devices sends to Microsoft. But they leave out some other options that could potentially send data, or provide loopholes for Microsoft to try to nag you into turning on unwanted features.
In Settings / System / Notifications, you should expand the "Additional Settings" section and turn off "Suggest ways to get the most out of Windows and finish setting up this device." Otherwise, Windows will decide that some of the features you want disabled are instead "incomplete" and nag you to enable them. You could also optionally turn off "Get tips and suggestions when using Windows", if you want to turn off another notification you don't plan on reading.
Check Settings / Personalization / Device usage for any unwanted enabled options. During device setup, you are innocuously asked how you will use your device (Gaming, Business, etc.). If you clicked any of those categories, those will be enabled here as additional advertising options for your device.
In Settings / Personalization / Taskbar, turn off the "Search", "Task view", "Widgets", and "Chat" options, unless you specifically need any of those options. I do not understand why Windows wasted valuable screen space for a search bar on the taskbar, when you could just hit the Windows key and start typing to search. You must be signed into a Microsoft account to use the "Widgets" view. The "Chat" icon forces you to use Teams, which most home users probably do not use. And the Task View already has a quick shortcut built into Windows, by pressing the Windows key and Tab.
Look At Our Advertisements
Microsoft has embedded advertising directly into many core components of the operating system, and they are all turned on by default. If you do not change those options, then you will see targeted ads directly in Windows.
The first option is well hidden by Microsoft. In Settings / Personalization / Lock Screen, you must change the "Personalize your lock screen" option from the default of "Windows spotlight". Now you can see a new checkbox for "Get fun facts, tips, and more on your lock screen" option, which you should disable. Otherwise, every time you try to sign into your device, Windows will show you multiple "fun" recommended messages.
In Settings / Privacy & security / General, turn off "Show me suggested content in the Settings app". Apparently Microsoft thinks that you need advertisements while making changes to your device's settings.
In Settings / Privacy & security / Search permissions, expand the "More settings" section and turn off the "Show search highlights". You can also optionally turn off the "Microsoft account" and "Work or School account" options in the "Cloud content search" sub-section, although in theory that should not an issue since we are using local-only user accounts.
We Want Your Subscription Money
Microsoft automatically includes their suite of software (most of which require separate subscriptions). You can remove any of these unused applications from Settings / Apps and reclaim that wasted hard drive space.
Microsoft 365
Microsoft OneDrive
Microsoft OneNote
Microsoft Teams
Office
Clipchamp
Look At Our Ads on the Start Menu (We Know You Use It!)
Windows has evolved through Windows 10 and 11 to drastically change the Start Menu, moving from the old menu approach that requires hunt-and-click to find your application in favor of type-to-search, with personalized/customized "pins" for your most-used apps. I personally enjoy the general changes they made, but during actual use it becomes obvious that Microsoft sees the Start Menu as their gateway to more advertising dollars.
When the type-to-search feature was originally added, Windows only searched your local device for matching applications and files. But Windows 10 added "Bing search", so if you typed anything into your Start Menu that didn't match a local result, it would try to find a better suggestion through an Internet search. Based on my experience, Windows 11 takes that a step further and always sends out a Bing search (note: I didn't actually run any network captures to fully validate this claim, but the Start Menu search results are awfully slow even for local results when Bing search is enabled).
You can disable Bing search in the Start Menu using my previous short post, but that change is deeply hidden – it requires making a manual change to the Windows registry, which is not user friendly. Microsoft can make the claim that this intrusive feature can be disabled, but they obviously don't want users to actually make that change.
Another new change to Windows 11 is that half of your Start Menu is taken up by "Recommendations" from Microsoft on what applications, files, etc., you might want to click from the Start Menu. Before we disabled advertising options in the previous section, this would also show online "suggestions" from Microsoft (advertisements).
I personally don't often click on those recently opened files, so I like to minimize how much space that takes up. You can change the layout in Settings / Personalization / Start; I have mine set to "More Pins". Also, if you don't want Windows to track your opened items, turn that off here (I still have that enabled for now, but maybe I'm being too trusting).
Start Menu Pins – Advertising Built Into Every Windows 11 Installation!
You probably noticed by now that the Start Menu already has a lot of "pins" (applications that always show up in the same location when you first open the Start Menu). That is because they are either Microsoft products they want you to use, or third-party products that paid Microsoft to include them in the operating system.
You will need to remove all of the applications that you do not want/need by right-clicking on each pin in the Start Menu. For some, you only need to choose the "Remove" option. For others, I recommend choosing "Uninstall".
I uninstalled these applications from the Start Menu:
WhatsApp
Spotify
Disney+
Prime Video
TikTok
Instagram
Messenger
I removed all of the rest of the pins:
Edge
Mail
Calendar
Microsoft Store
Solitaire and Casual Games
Xbox
Calculator
Clock
Notepad
Photos
File Explorer
Movies & TV
Tips
Edge Browser – The Dark Pattern Master
I don't often use the Edge web browser, but I thought I would share some of the hidden options I found worth turning off and some dark patterns that Microsoft uses to try to keep you in their browser.
Downloading another browser
First, if you try to download another browser using Edge, you will get some surprising search results.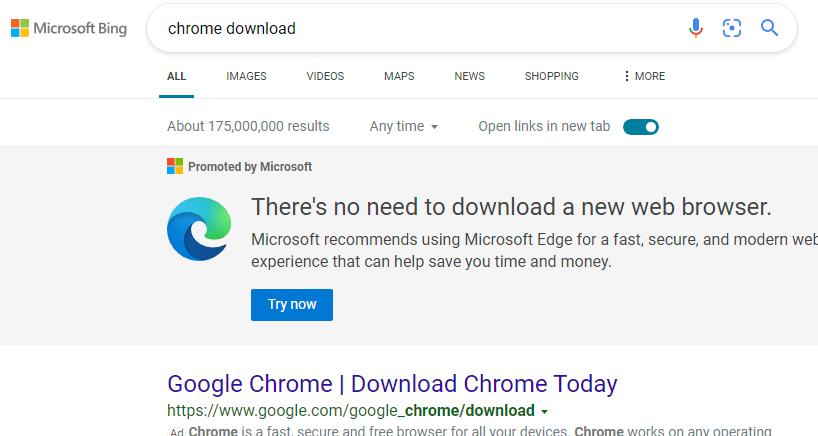 That is actually a Bing search result, so I cannot really blame Edge in this case. However, if you visit the Chrome download page, Edge actually does interfere by showing a native Windows pop-up dialog pleading with you to stay on Edge:
Changing the search engine
If you actually decide to stay in Edge, Microsoft obviously wants you to continue to use Bing as your search engine. So they try to hide those options, so a casual user will be less likely to change it.
To change the search engine in Edge, you need to open the Edge Settings and click on the Privacy, search, and services section. Then scroll to the bottom of the page to the Services subsection. At the bottom of that section is the "Address bar and search" button, which opens a new sub-page where you can change to a different search engine.
But the dark patterns don't stop with trying to hide the option! If you select a non-Bing search engine, a new option appears: "Search on new tabs uses search box or address bar." The default (and "recommended" by Microsoft) option is "Search box", which slyly causes you to use Bing if you just start typing in the address bar after opening a new tab, like all users normally do. If you want the address bar to use your chosen search engine, you have to also change that option to "Address bar".
For comparison, both Chrome and the Brave browser (another Chromium-based browser, like Edge) lets you change your search engine settings as a top-level Settings section, with no hidden options to use a different hard-coded search engine from the most common search input field. So Microsoft went out of their way to modify Chromium to move the settings somewhere hidden and add functionality to trick users into using Bing.
Turning off suggestions
While you're in the Privacy, search, and services – Services subsection, you can also turn off some ad-centric features:
"Save time and money with Shopping in Microsoft Edge"
"Show suggestions to follow creators in Microsoft Edge"
"Show opportunities to support causes and nonprofits you care about"
"Get notifications of related things you can explore with Discover"
I'm sure there are plenty of other settings in Edge that can be changed to improve privacy and the user experience, but I really don't use Edge much, so I will stop here after showing these egregious examples of dark patterns.
Wrapping Up
I hope this was informative and useful! Let me know if I missed any settings that you think should be changed from their defaults in Windows, or if Microsoft adds any new annoying options in future updates.