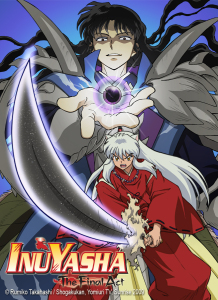 For any long-time Adult Swim fans out there, you probably remember in 2002 when Adult Swim expanded from a single block of Sunday night programming to include a second Saturday block dedicated to anime. And one of the first shows on the new Saturday anime block was Inuyasha.
Inuyasha, which originally aired 167 episodes in Japan, was a mainstay of the Adult Swim anime lineup through 2006. But despite its long run, the series ended abruptly without any conclusion to the major story arcs that had been in place for nearly the entire series.
In Japan, a new Inuyasha series was created and aired in fall 2009 through early 2010 that wrapped up the story, aptly named Inuyasha – The Final Act. It follows the last chapters of the manga, finally concluding the main story lines involving Naraku. Or so I hope, anyway – I have not read any of the manga or seen any plot information about the series.
But finally, after years of waiting, Adult Swim will begin airing Inuyasha – The Final Act on Saturday nights, starting this coming Saturday. But be warned: some of the voice actors have changed, most notably those that voice Kagome and Sesshomaru.
Even though I'm worried about Sesshomaru's new voice, my DVR is already set for Saturday's first episode!