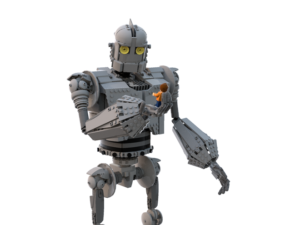 There is a proposal for a new Lego set for The Iron Giant, which already has over 5000 supporters. If it gets enough supporters and is approved by Lego, you could buy a Lego set that includes:
Iron Giant, with changeable eyes, weaponry, and an attachable S chest plate
Hogarth Hughes, with the Iron Giant's bolt
Annie Hughes, with a coffee pot
Kent Mansley, with a fedora
Dean McCoppin, with a coffee cup
The entire set consists of approximately 2023 pieces. Who wouldn't want their very own giant robot? Add your support today!